Deltaville Seafood Festival 2014
(Click image for a full size version)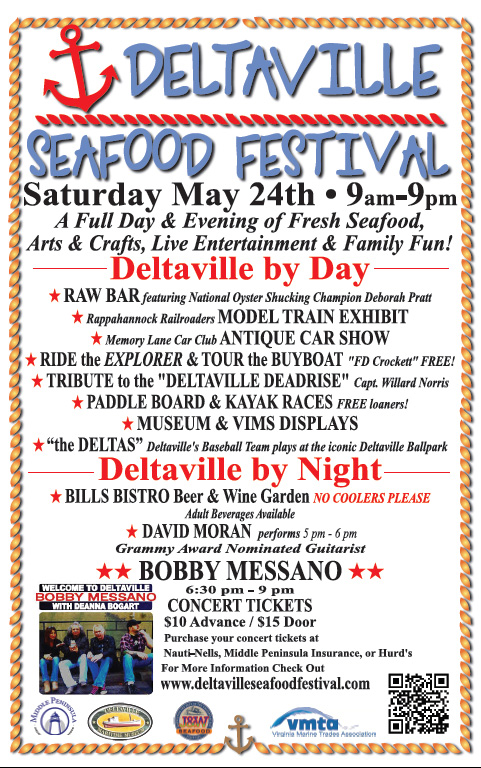 www.DeltavilleSeaFoodFestival.com

The DCA presents The Deltaville Seafood Festival which includes seafood vendors, arts and crafts, and family focused activities.  The festival will be located in the Deltaville Community Village and at the Deltaville Maritime Museum & Holly Point Nature Park.
Among other activities, the Festival will feature on-the-water activities for kayaks and paddle board enthusiasts from 11-2 at the Deltaville Maritime Museum.  Families who already own kayaks and paddle boards are encouraged to bring their 'yaks and SUPS to launch and tour Mill and Jackson Creeks.  Timed-run contests will be held for prizes and honor. For those who don't own their own, free loaner kayaks and paddle boards will be available at the museum, thanks to many friends of the event.
Other activities on the waterfront include tours on the Explorer, boat rides, and chats with Capt. Willard Norris, one of the last builders of Deltaville Deadrise boats.  Capt. Norris will speak about the Chesapeake Deadrise hull and why Deltaville was once known as "The Boat-building Capital of the Chesapeake Bay." Visitors are free to enjoy the Holly Point Nature Park at the Deltaville Maritime Museum.
The Deltaville Community Village area will hold unique arts and crafts vendors will be offering quality hand made items including paintings, photography, sculpture, jewelry, and more.  Festival organizers have selected unique vendors carefully to not duplicate wares. Just a couple of the many vendors participating are Burke's Jeweler's from Kilmarnock, and Wilton Cottage & Garden Gifts in Hartfield.
Seafood vendors for the event will also be staged at the Deltaville Community Village area.  The list of vendors is outstanding and includes Strawberry Street Cafe from Richmond, Creekside Catering from Gloucester, Middlesex Lion's Club, and Deltaville Oyster Company.  The raw bar at Deltaville Oyster Company will feature national oyster shucking champion Deborah Pratt as well as her sister Clementine Boyd Macon.
For our guests who don't care for seafood, The Deltaville Community Association will be offering hot dogs, hamburgers, and BBQ along with all the fixings served with smiles by DCA Board Members.  A local band will be entertaining visitors with some great music near the DCA Food Booth.  Kicking off the Deltaville swim season, the DCA's Ricky Taylor Memorial Pool will be open for "free" swim day for all visitors.
Memory Lane Car Club will have a huge display of antique cars at the Festival. Also, the Rappahannock River Train Club will have a dazzling exhibit that will surely thrill the youngest to oldest visitor.  Speaking of the youngest visitors, the Masonic Lodge will be putting on their highly popular free child identification program, too. Our own Deltaville Deltas semi-pro baseball team will be hitting balls out of the Deltaville Ballpark in a game starting at 2 PM.
From 6-9 PM Bobby Messano, Grammy (eight first-round nominations) nominated guitarist will be in concert playing his most recent CD that was nominated for Best Blues album that just happened to be titled, "Welcome to Deltaville."  David Moran will open the music that evening at 5 PM with an acoustic set.  Tickets for the concert will go on sale soon!  Beer and wine will be offered by the DCA and Bill's Bistro will have some scrumptious food, if you're not already full from the day!
Parking for the Deltaville Seafood Festival will be offered for a $5.00 donation at the Deltaville Fire Department.  Buy one parking pass for $5.00 and the pass is good for parking at the museum as well.  There will be handicapped parking available at both locations in areas closer to the events.
So, if you are looking for activities for Memorial Day weekend out of town guests to do – with you or without you, put the Deltaville Seafood Festival on your calendar.  And be sure to bring your bicycles, too, for easy, green transport to and from the museum to the heart of the Seafood Festival in "downtown" Deltaville, "The Boating Capital of the Chesapeake Bay"
Visit the official website here: www.DeltavilleSeaFoodFestival.com
| | |
| --- | --- |
| Date of Event | Saturday, 24th May 2014 |
| Start Time | 9:00 am |
| Ending Time | 9:00 pm |
| Venue Location | Deltaville Community Association (DCA) Property |
| Street address | General Puller Hwy, Deltaville VA |
| Cost of Event – or Free | Free ($5 Parking Donation Accepted) |