Deltaville Is Healing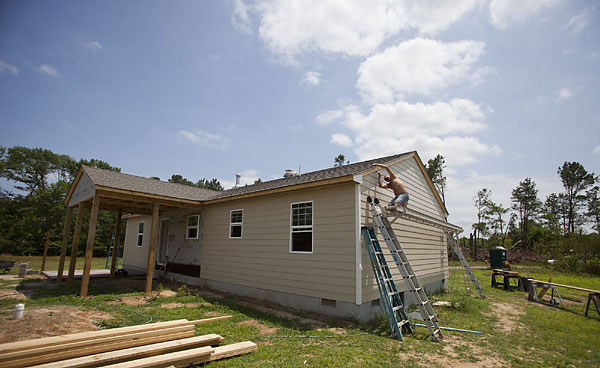 Published on HamptonRoads.com | PilotOnline.com (http://hamptonroads.com)
Deltaville is healing two months after tornado
MIDDLE PENINSULA
A test. That's how folks in Deltaville define the past two months.
A test of backbone and body, of community and commitment. A sweat-soaked trial that began with a few seconds of terror on April 16, when at least 10 tornadoes swooped out of the sky over southeastern Virginia and northeastern North Carolina.
No one was injured in this waterside village – a "miracle" that's not lost on the locals. But a church, businesses and more than 50 homes were destroyed or heavily damaged, a huge hit in a town with just 800 or so residents.
Not everyone rose to the occasion. A spray-painted sign leaning against a splintered tree carries advice for those who slipped in to gawk or steal: "If you don't live or work here, stay the hell out." Mostly though, says 74-year-old William Norton, a lifelong resident: "I'm so proud of my people, I almost want to cry."
They came together, a story that's in motion in storm-torn towns across the country. They bunked together, shoveled together, nailed and sawed and prayed together.
The results are finally emerging. Robert Matalik pauses long enough from laying tile inside his nearly rebuilt home to study a photo of his property taken right after the twister.
"Wow," he says quietly. "That's hard to even look at."
Scars remain – twisted metal, boarded-up windows, blue roof tarps. Matalik says he wakes up thrashing now and then, still haunted by the day the walls blew away and he and his wife hung on to the bathroom commode to survive.
The randomness of it will always be chilling. So will the realization of how bad things could have been. A string of powerful storms already made 2011 especially deadly in the United States. More than 500 people dead, it has been the deadliest year for tornadoes on record since 1950.
Frank Moneymaker, 78, stands in front of an empty lot where his house used to be.
"Does it matter that we lost everything?" he asks. "Yeah, it matters. But you can replace your stuff."
Joanne Kimberlin, (757) 446-2338, joanne.kimberlin@pilotonline.com
——————————————————————————–
Source URL (retrieved on 06/21/2011 – 11:45): http://hamptonroads.com/2011/06/deltaville-healing-two-months-after-tornado