Blues Guitarist Tom Euler to perform in Urbanna June 27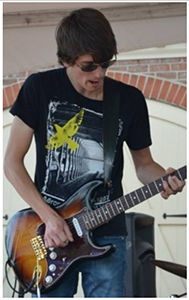 Nineteen year old Thomas Nelson Community College music major, Tom Euler is a native of Middlesex and resident of Hart?eld. His tasteful and powerful style won him 5th place in the Blues Guitar category at Lee Ritenour's International Music Competition this year (sixstringtheory.com). He is a member of the Bobby Blackhat Band and is also a songwriter. (soundcloud.com tom euler music) Tom will take the stage at Something Different Restaurant on Virginia Street in Urbanna on Friday, June 27th, from 8 until 10 PM with bassist Wes Mallory and drummer Mead Usry.
This will be a rare chance to hear great original music and enjoy crowd pleasing covers of Jimi Hendrix, Allman Brothers, Stevie Ray Vaughan, Johnny Lang, Joe Bonamassa, Eric Clapton and others.